International Sports Day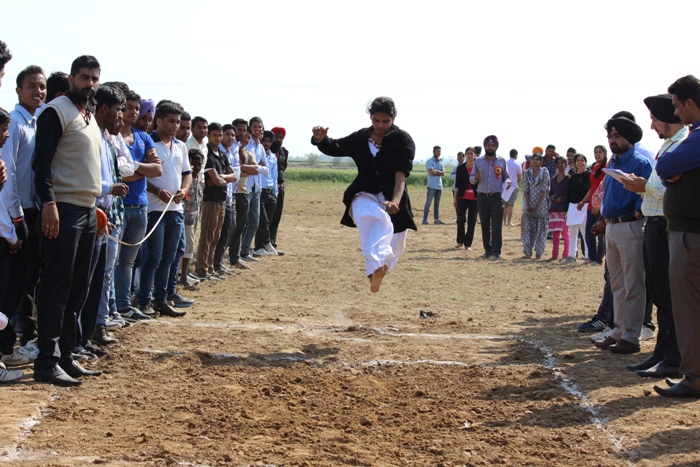 20-03-2014
ANNUAL SPORTS DAY CELEBRATIONS AT UNIVERSAL GROUP
More than 500 students have taken part in different events in the mega event of Sports Day.
Universal Group celebrated its annual sports day on 7th March 2014 in grounds with great zeal and fervor. All students especially the participants were really excited about the event. The celebrations began with a march past by the students and Oath ceremony. The events filled in the hearts of everyone with the spirit of sportsmanship and unity .The drill by polytechnic students, and the other cultural items remained as the main attraction of the mega event.
Dr C.K Jairath (President of North India Federation of Boxing and President of UT Boxing Association) was the Chief Guest and gave away the medals to the winners and applauded with great pride .The Chief Guest has said that Universal has no leaps and bounds as far as its growth is concerned .Its an ever growing organization and its Numero Uno position in providing quality school education in the country. UGI spends huge amount on games & sports and gives lot of impetus to the sports events. It is the mission and Vision of Universal to encourage students for their all round development and it further envisions providing world class facilities in campus in the days to come .He advised students to excel in academics on par with games and sports. All the students cheered for the participants.
In his welcome address, The Chairman of Universal Group Dr Gurpreet Singh highlighted the importance of games and sports in students life. He wished that many PT Ushas , Milkha Singh and Dhyanchands from UGI come out of to represent India in the Olympics. As Universal is providing all kinds of facilities for its students to make up their personality .He further advised students to make use of all the available resources to show case their talents. He promised to provide improved and quality facilities..
Physical Education teacher Mohit Bharatwaj submitted a report on the achievements of students in the arena of sports.
Universal Executive Director Dr D.P Singh presented vote of thanks. More than 500 students have taken part in different events in the mega event of Sports Day. Universal thanked everyone who contributed their services either directly or indirectly for the grand success of the mega event. Sports day ended with National Anthem.