UGI celebrated Biological Diversity Day.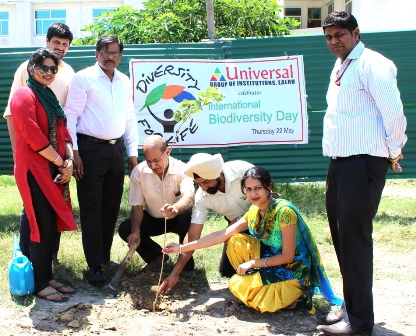 22-05-2014
A gathering of teachers and students of Commerce & Science today assembled at the Universal College premises to celebrate this year's International Day for Biological Diversity and celebrate the forests of the world. This year Universal group celebrated this day under the theme "Forest Biodiversity" as their contribution to the Forests by planting Sukh Chayn Tree in the premises.
In his message to the Students and Faculty, Principal Degree College of Commerce & Science Universal, Dr Ramesh Dogra Stated, "The benefits of forests are far-reaching. Forests catch and store water, stabilize soils, harbor biodiversity and make an important contribution to regulating climate and the greenhouse gases that are causing climate change," he added, "This year's International Day for Biological Diversity is devoted to highlighting the need for urgent action and alarming need."
Universal Group Chairman, Dr Gurpreet Singh, urged the audience and others to act year round in whole 12 months, not just on the International Day for Biological Diversity. He said that we need to work on the scope of the biodiversity crisis and act accordingly.
In a symbolic gesture for living in peace with nature, the ceremony culminated with the students and other participants planting trees, on the grounds of the Universal College as a contribution to the International Year of Forests and to The Green Wave campaign.