Universal College, Ballopur organized a one day NSS camp on October 8, 2015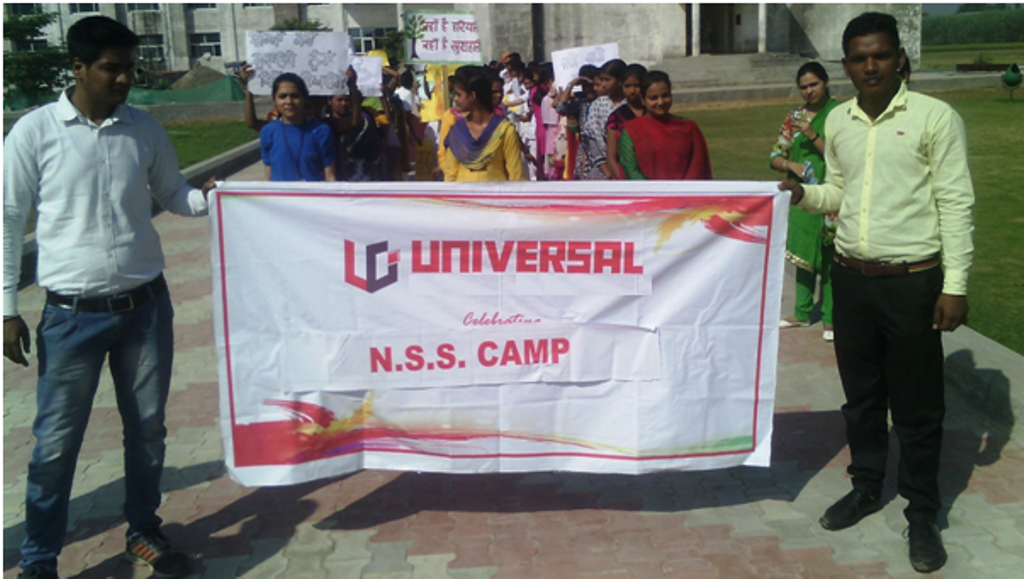 08-10-2015
UNIVERSAL COLLEGE, BALLOPUR in collabotation with Universal college of nursing organized a one day NSS camp on Thursday, October 8, 2015. More than 100 volunteers participated in the camp. The Camp was inaugurated by HOI Dr. L.K. Attri in the presence of Director, UIET Dr. Vikas Dhawan, Principal (UPC) Dr. S.K. Sharma, Principal,
Nursing & HOI DSGCE by giving green signal. Programme Officer, Mr. Sunil Kumar (Asst. Prof.) with faculty members initiated the NSS Camp. NSS volunteers went to the village
Ballopur by giving slogan 'Not me but you' , 'Save Trees Save Environment' 'Jaaggo Jaaggo Nashe Tyago' & 'Ik Rukh So Sukh' etc. NSS volunteers went to diffrent houses in
the village and aware the people about the importance of sanitation and cleanliness. The faculty members of college Mr. Dalip Kuamr, Ms. Punam Gupta, Mr. Kuldeep, Ms.
Manisha & Ms. Sonika etc have also supported the camp very well. NSS volunteers camped at Govt. Middle School in the village and cleaned the areas of school along with school children thereby motivated students to maintain the school campus.

After the cleanliness drive, free medical check up was organized by the college where a panel of doctors, specialized in ENT & Dental, from Healing Touch Hospital, Ambala, have checked the patient from the village. Meanwhile, refreshment to the NSS volunteers was also given. The day long came end with various cultural activities performed by the NSS volunteers.

HOI, Dr. L.K. Attri address the NSS volunteers and lauded the efforts of the NSS volunteers and infused them with zest and enthusiasm.
Dr. Gurpreet Singh, Chairman, Universal Group of Institution, Lalru, appreciated the efforts of the students and promised to promote, in future, such activities for the welfare of the society.