UGI organized a MEGA JOB FAIR.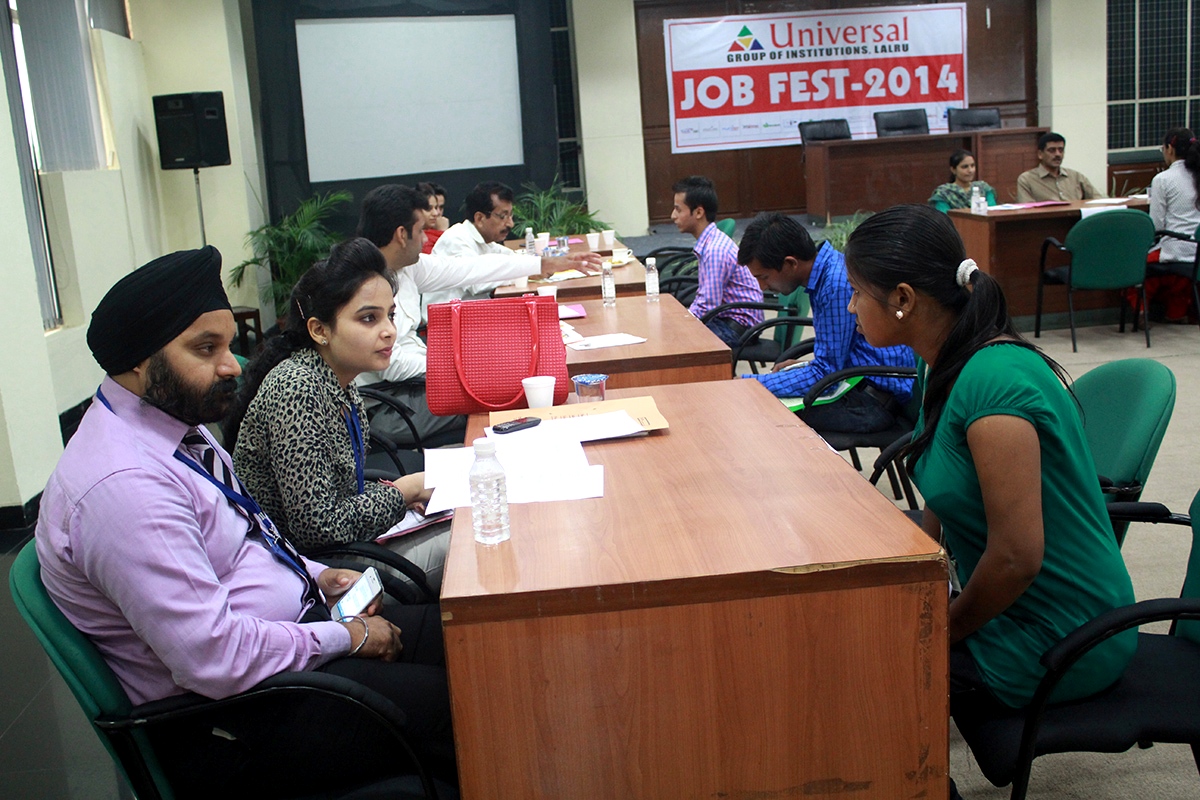 28-07-2014
Universal Group, Chandigarh has always been proactive in providing job opportunities to the students. As a part of this Endeavour, a Mega Job Fair was organized today for diploma & degree holders and engineering students in which around 154 candidates participated. The HR Heads from more than 12 companies ( Funfirst , Pic N Frames, Blackbox, Airsoft ,Platinum Consulting, Exim Entreprises, OGS , Intelgain., Saturn, Sebiz, SV Associates, Netsmatrz ) gathered to ensure hirings in job fair where around candidates 74 got shortlisted for various positions. The theme for this event was Work hard for best opprutunity.
We have chosen this theme because the Mega Job Fair 2014 is an excellent chance for those looking for work or for a career change to discover what opportunities are available to them, said. Director Engineering Dr Rachit Garg. Career and Placement Officer Mr Harbhagann , said We encourage job seekers to come to this event prepared – to dress neatly, have resumes on hand and take the time to talk about their skills to employers - whether they are looking for a career, summer employment or both.
The event had brought companies into direct contact with College and students, providing them with the opportunity to get young people interested in their industry. Students in the current batch and those who passed out earlier participated in the fair. The main objective of the fair was to provide an opportunity for students. There was no entrance fee for taking part in the fair.
Mr Satwinder Singh Sekhon (North Region Head FUNFIRST Pvt Ltd) commented, I think this annual event offers an important benefit for businesses, not only to meet the students who are being trained at College, but to reach students who are thinking of the future and others who are currently unemployed but interested in exploring new options.
Students of engineering and diploma were very happy on getting shortlisted in companies for final round. While sharing views: students were very excited and relaxed after getting short listed and on soon going start up of career with a great package till 3.5 Lacs. They said they are lucky that their worries are over as they would now not have to go for any searches for jobs!
Chairman UGI Dr Gurpreet Singh added, Mega Job Fair is the need of an hour, that provide opportunity to the prospective employers as well as students passed out from the
college to have an open interaction to discuss the employability potentials and
suitability required to meet the job requirements. The employers would pick up
students suitable for jobs right on the spot. As students who are seeking job and career opportunities this event is custom-made to help them. With our students, members of the general public were also welcomed to attend this Job Fair. Dr Gurpreet further said that all of these companies had the requirement of manpower ranging from 5 to 7 employees. The packages that companies will offer varied from 2 lacs to 3.5 lacs.