Universal Group of Institutions conducted Entrepreneurship Orientation Programme.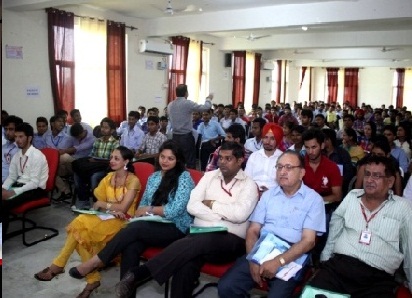 05-09-2014
Universal Group of Institutions believes in not only imparting knowledge but also group is well dedicated and focused on enlightening the students with their future aspects. To give insight view of the industry and to inculcate a desire to become entrepreneur among the students NSIC has devised a unique Entrepreneurship Orientation Programme EOP conducted by National Small Scale Industries Corporation Ltd that was held in the premises of Universal Group today.
The programme is specially designed for the students, who are still pursuing their studies and do not have an idea about Entrepreneurship.
Mr Hassan (Manager Technical NSIC) and Mr Kumar Rohit addressed the students and shared that Purpose of EOP is to create awareness among the students for setting up of new Enterprise after completion of their studies instead of searching for jobs only. This program will make the participants familiar about role and importance of MSMEs in Indian Economy, process of setting up of Enterprise, preparing Project Reports, Identifying marketing possibilities as well as with the issues regarding various statutory requirements such as Income Tax, VAT etc.
Dr Gurpreet Singh Chairman Universal Group welcomed the govt body for more seminars in future and said The mission of the Universal Group through this programme is to help a young brain in becoming successful entrepreneur, on the same he extended his great positive gesture for NSIC who has come in the Campus to educate , to enlighten the students who want to start his/her business with different ideas.
Mr Harbhajann (TPO), Universal Group under whose guidance this programme went successful shared that students of Universal Group will get registered on Micro small and Medium Enterprises web portal and with this a unique login-Id and password of same will be provided to students for more assistance and help.
NSIC seminar ended with interactive session with the students feedback.