Meet & Greet by Universal Group to the Star Cast of Punjabi Movie Goriyan Nu Daffa Karo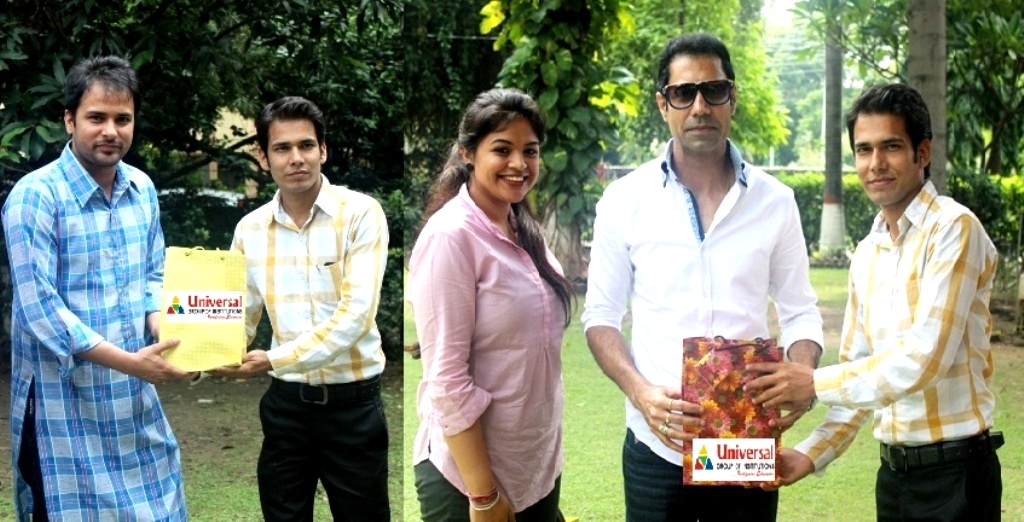 17-09-2014
Universal Group Of Institutions did Meet & Greet with Starcast of recent released Punjabi Movie GORIYAN NU DAFA KARO in Chandigarh. Goreyan Nu Daffa karo is an upcoming Comedy Punjabi Film which is directed by Pankaj Batra. The production is given by Suresh Kumar, Monty Shoor, Aman Khatkar and Sukhjinder Bhachu. The Star cast of the movie Goreyan Nu Daffa karo are Amrinder Gill, Binnu Dhillon, Rana Ranbir, Yograj Singh, Sardar Sohi, Karamjit Anmol
Faculity members of UGI greeted Amrinder Gill and Binnu Dhillon with whole starcast for the success of their movie on box office. Punjabi Singer and Actor Amrinder Gill while interacting with Civil Department, UIET Asst Prof Mandeep shared that the Movie is directed by Pankaj Batra who has given Successful movie like Naughty Jatts . The production is given by Suresh Kumar, Monty Shoor, Aman Khatkar and Sukhjinder Bhachu . While in the conversation Actor Binnu Dhillon also threw some light on the story and theme of the movie which is romantic as well as also having the flavor of Comedy.
Dr Gurpreet Singh, Chairman Universal Group speaking on the occasion said that promotion of Punjabi art and culture is an integral part of the programme of Universal Group of Institutions. These kinds of activities also provide an exposure and motivation to the students.
On this gesture of Universal Group of Institutions Punjabi Singer and actor Amrinder Gill and Binnu Dhillon extended their thanks to UGI for the greetings. The whole star cast wished to all the students and UGI family through message.