Tech Nex-14 Fest in UGI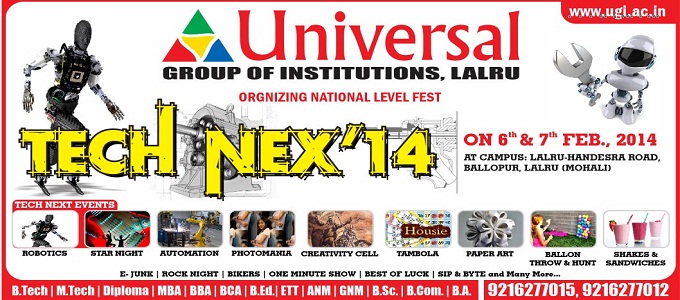 06-02-2014
Two Day TECH FEST at Universal Group of Institutions draws to a close
Participation by more than 2500 students from across 80 schools from across the region. Tech Nex 2014 is called Universal biggest techno- cultural- college fest for a reason. The sheer diversity in terms of the events available is sufficient proof for that, be it highly Technical, and cultural event.

The tech fun fiesta, Tech Nex 2014, the annual Techno-Cultural-Management Fest organized by Universal Group Of Colleges on 6th & 7th of Feb, turned out to be a grand success. The participants, students, faculty and management from other schools who were part of the events at Tech Nex 2014, all enjoyed the show alike and cheered on for all the events held at the venue. More than 2500 students from across 80 schools from around the areas were present at Tech Nex and around 500 of them took part in various events in Tech Nex this year.
The first Day at Tech Nex 2014 was inaugrated, in the presence of Dr.Buta Singh Sidhu. The extravagant inaugural event was followed by showcasing of different technical projects like Floating Concretes, the Bridge Structure, E-Waste management, Mobile Science Lab.
The final second day at Tech NEX 2014 was inaugurated by Additional Director Dept of Technical Education'Sh Mohan Bir Singh and Director Punjab State Board of Technical Education "Sh.Narinder Pal Singh". On second day students of Mechanical Department has exhibited one invention of Compactness of Car which will be fruitful in future to avoid parking problem.
The two-day fest had different contests and competitions which were held all over the campus over the weekend in categories like Music, Theatre, Dance, Gaming, Technical events. The campus was buzzing with bright colours and enthusiastic faces of the participants and audience who were gripped by the excitement of Tech Nex 2014! The winners were felicitated with exciting prizes.

The Chairman of Universal Group of Colleges Mr. Gurpreet Singh, was immensely proud of the efforts put into the event, the turnout at the venue and the overall success of the show. Participants from schools outside remarked on the top quality of the fest and called it as one of the best organized fests in the region today. The participants were seen recalling how much Tech Nex 2014 means to them and how much excitement goes into their performance before coming to Tech Nex 2014.

The organizing committee and students felt nostalgic as they bid farewell to another Awesome Tech Nex 2014! They however had a bright gleam in their eyes as they look forward to Tech Nex coming back next year – Bigger. Better. Brighter than this year!