Foundation Day in UGI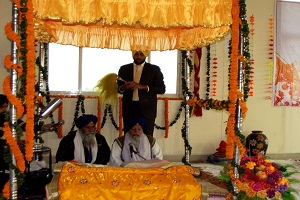 17-02-2014
Sh. Krishan Pal Sharma (Political Advisor of Sh.N.K Sharma , MLA and Chief Parliamentary Secretary

, was the Chief Guest

Nearly 1500 students, Panches & Surpanches took part in the religious ceremony of Path and Langar
Universal Group of Institutes celebrated its Foundation Day on 17th February. Ever since the college was established, the Universal ideals of love and service, faith and justice have been emphatically imparted both in and out of the classrooms. This form of education, which goes Beyond the Blackboard and beyond the confines of the classrooms, is precisely what has helped Universal Group to produce several success stories which have made it big in the field of education.
The Foundation Day is a reminder that a thousand such have gone before them and everyone present had the same potential to be the future success stories of this prestigious institution.
The Foundation Day celebrations of Universal Group began at 10.00 AM with Bhog of Akhand Path in the college premises of Universal Group for Academic Excellence.
Sh. Krishan Pal Sharma (Political Advisor of Sh.N.K Sharma , MLA and Chief Parliamentary, was the Chief Guest and delivered the Foundation Day speech emphasizing on the importance of being able to adapt to change and inspiring each and every one to work towards achieving their goals.
After this programme ended with Executive. Director Universal Group Dr. D.P Singh the delivery of the vote of thanks along with Chairman Universal Group S. Gurpreet Singh and other dignitaries S.Jaspal Singh( Vice President Universal Group) and S. Jagraj Singh,( Secretary Universal Group who had addressed the students and staff members with their warm wishes for the future goals. Nearly 1500 Teachers, Panches and Surpanches had participated in the celebrations of Foundation Day Function which was organized by the Universal Group in the premises.
All attended the foundation day celebrations with complete Zeal..