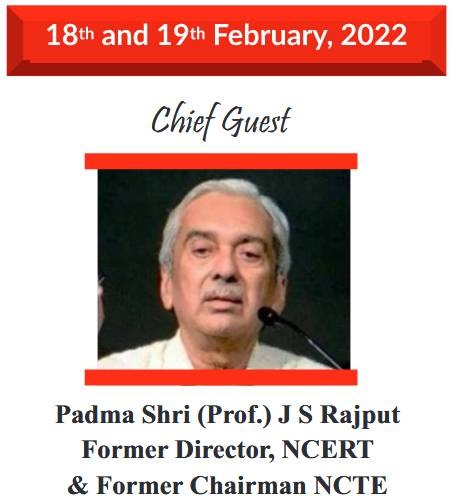 Chief Patron (GERA)
Prof. R.P. Tiwari
Vice Chancellor
Central University of Punjab
Bathinda

Patron
Dr. Gurpreet Singh
Chairman
Universal Group of Institutions
Mohali

Patron (GERA)
Prof. M.S Sodha
Former Vice Chancellor
Lucknow University, Lucknow

President (GERA)
Prof. S.P Malhotra
Former DAA,
Kurukshetra University
Fellow, NIEPA

President (HQ)
Prof. (Mrs).S.K Bawa
Campus Director
Universal Group of Institutions
Mohali

Convenor
Dr. Vikas Sharma
Dean UIMT
Universal Group of Institutions
Mohali
Advisory Committee
Prof. Ramesh Kumar Ghanta
Vice Chancellor, IKGPTU, Kapurthala
Prof. Arvind
Vice Chancellor, Punjabi University, Patiala
Prof. Raj Bahadur
Vice Chancellor, Baba Farid University,Punjab
Prof. N Jariya
Regional Secretary Asia GERA
Prof. J S Dhillon
Vice President, GERA
Prof. S Chaugale
Director, School of EducationYashwantrao Chavan Maharashtra Open University, Nashik.
Prof. (Ms) S. Passi
Vice President, GERA
Prof. Shweta Sharma
Dean,Universal Group of Institutions
Ms. Prabhjot Kaur
Director Academics,Universal Group of Institutions
Mr. Sunil Soni
Director Admissions, Universal Group of Institutions
Mr. Daljeet Singh
Joint Registrar, Universal Group of Institutions
Invited Speakers
Prof. Eugene Kowch
University of Calgary, Canada
Prof. J K Dhillon
Worcester University UK
Prof. Raghu Echempati
Kettering University, USA

Prof. Saamdhu Chetri, Bhutan

Dr. Krittika from KMUTT, Bangkok

Prof. Manjula Vithanapathirana
Sri Lanka University Colombo
Prof. Syeda Tahmina Akhtar
Dhaka University, Bangladesh
Prof. R P Tiwari, Vice Chancellor,
Central University of Punjab, Bathinda

Prof. Saroj Sharma, Director, NIOS

Prof. Akhilesh Singh, Vice Chancellor
PRPSU, Allahabad

Prof. Anita Rastogi, Jamia Millia Islamia, New Delhi

Prof. Amita Pandey
LBS Sanskrit University, New Delhi
Prof. Nagendar Singh
Dean Academic RIE, Dean Education
MDS University, Ajmer
Prof. Karanam Pushpanadham
Head, Department of Educational Administration
M S University, Baroda
About the Theme
In a highly competitive world of today, the mantra to success lies in the know-how of new mind-set, tool-set and skill-set.Accordingly, countless committees, task forces, panels, and commissions including the Indian National Education Policy 2020 have addressed the need to educate a large number of innovative manpower.In the present technological scenario, huge amount of data are now stored and processed from months to minutes. The world of Internet of Things (IoT) has connected the global world causing a significant impact on our lives and on the education system. The pandemic has further pushed education communities across the world to find responsible innovations.
Attempting to combat the pressures of disseminating technology by creating virtual spaces for learning, teaching and innovation has seen a leap frog in the past few months.
The radical changes have raised a lot of challenges that require resolutions through innovation and deeper knowledge for a strategic win-win approach in the field of worldwide education. Consequently, this conference will aim to pitch a holistic visionary scheme of approaches through systems thinking, research and wisdom dialogue. The academic research task force is focused to articulate the core values propounded by our visionary leader, late Prof. B. K Passi that was based on re-engineering responsible innovation across education spectrum. His futuristic vision of wisdom society for world peace and happiness through innovations are much sought prescience in the present times. A road map is required for adopting innovations with responsiveness through deliberations on its various aspects. Some of them have been delineated below as sub-themes for transpiring innovative discoveries in education for this platform.
Sub themes
A. Re-engineering innovative skills
Solving problems in new and simple ways demands attention and greater responsibility for the academic stakeholders in the present times. The resistance in thinking about academic re-engineering arises from the absence of clarity between balancing economic productivity and goals of educational paradigm. Therefore, new frameworks and models of teaching and learning for innovative governance are required with evolving times. It is expected from academia to vouch for more responsible and thought-stirring sustainable ideas to discover and re-engineer a cohesive society.
B. Responsible innovations and National Education Policy
NEP-2020 clearly points out at boosting creative innovations to be a part of the education process and technology as astandadaspectin the entire teaching-learning spectrum. Equal stress is laid on practicing the ethical norms. The challenge has been put forth before there searchers and policy planners to delve deeper into the essence of responsible innovations for a well thought-out plan that could be implemented and regulated in the futures.
C. Technology access & socio - cultural values
The swift access to internet and gadgets has eased the process of communication worldwide. Technology has had its radical share in impacting the traditional v/s modern approaches of education. However, adapting to technology pan-country remains a challenge for government bodies. The visible gap between technology-enabled learning versus one-to-one human interaction based learning must be filled through restoring values of Sarvodaya.
D. Envisioning future classrooms
Classrooms as physical teaching models are being swiftly replaced by studios and virtual teaching modes. The potential impact of smart classrooms, smart teaching aids, augmented reality and artificial intelligence in teaching learning methods need constant consideration. Since education lies at a peculiar crossroad in the society, the stakeholders have the responsibility of anticipating real-life skills by preparing for an increasingly complex world. This dichotomy is particularly aggravated when it comes to technology, where fast paced innovation is the only constant.
F. Responsible innovations for world peace and happiness
Innovation has long driven advantages in the evolution of mankind. To discover what part education can play in the present world crisis, it becomes essential to understand how the crisis has come into existence. Delineation from right practices that are self- aggrandized and competitive leads to self isolation and depletion of resources ultimately pushing the society to operate from a bare survival mode. Instead, we must evaluate opportunities that are based on cooperation, co-existence, global sustain ability for world peace and happiness through responsible innovation and right practices.
G. Hybrid model of learning in different levels of education
The hybrid learning and teaching approach is satisfyingly meeting education system's expectations at many levels. The outbreak of pandemic accelerated the transition towards remote working and learning across sectors globally. This has further propelled the emergence of hybrid learning as a significant concept around the education system. With technological aid the educators are able to meet the demands of reaching out remotely in the new normal times. Improved flexibility and digitized learning are further considered as the major benefit of hybrid learning. The potential escalation of implementing hybrid model of learning across different levels of education needs further deliberation.
H. Challenges for sustainable technology in education
The evolving trends in technology are changing traditional ideas, concepts, methodology and aim of education. Each of these emerging trends carries both risks and opportunities. Therefore, the reforms in education need to be developed with an awareness of both. Sustainable development in education must aim to ensure inclusive and equitable quality education and promote lifelong learning opportunities. In both formal and informal context, learning is now largely affected by technology. Therefore, it becomes imperative that our learning goals be connected with emerging trends affecting education in the new information age. There is urgency on the part of the stakeholders in education fraternity to innovate futuristic ideas for combating challenges for sustainable technology in education.
I. Future values & strategic thinking
In today's multi-faceted realities and increasingly interconnected world, a broad, comprehensive and long- term strategic foresight is essential to meet the demands for future education. Our society needs the ability to comprehend, navigate and adapt to a world of uncertainty and continuous change. With artificial intelligence taking over manual tasks, soft skills such as creativity, emotional intelligence, problem solving and empathy rise in importance. So, strategic thinking in education for underlying future values is compulsory from the researchers and the academicians' point of view.
About Universal Group of Institutions (UGI)
The Universal Group of institutions was established in 2009 with the aim to bestow quality education. It offers various Programmes like Law, Management, Nursing, Humanities, Education, Pharmacy, Agriculture, Engineering, Polytechnic . The aura of UGI campus is the most conducive for learning. The UGI is known for its expert staff and faculty, use of digital and ultra modern technology and innovative pedagogy in the order to meet the challenges of local and global needs.
About Global Educational Research Association (GERA)
Global Educational Research Association is a society having its own constitution. This society was founded on 12th Nov. 2010 under the leadership of Late Prof. B. K. Passi. The present president Prof. S. P. Malhotra is providing leadership to achieve the objectives of GERA to develop and promote educational research, provide an international forum for discussion of problems related to educational research, conduct workshops, seminars, conference etc, disseminate findings of research, publish journals, monographs and other types of literature on educational research, co-operate with organizations engaged in educational research, and carry out all such other activities as may be conducive to the attainment of the objectives of GERA.
Important Instructions
1. On the spot registration is not available.
2. Participants are required to register individually if they are presenting paper jointly.
3. The certificate will be issued to those delegate only, who will remain present in the conference
4. The link will be sent to the registered participants.
Paper Format

Only MS word file will be accepted Paper size: A4 , Line spacing 1.15

Margin: 1.5" Top and Bottom 1.5, Left and right justified Font: Bookman old style

Size: 14 for Title and 12 for Text
Call for Papers

1. The Participants are requested to submit their abstract (in about 100 words) and on or before 20th Dec, 2021
2. Mode of paper presentation shall be dialogue and e poster
3. Online registration is available till 15th Dec, 2021
Important Dates
Conference Date : 14th to 15th
January, 2022
On line registration : 15th Dec, 2021
Abstract Submission : 20th Dec, 2021 Full paper submission : 31st Dec, 2021
Registration online on : educon22@ugichd.edu.in