Universal Group wishes Good Luck to Bhagwant Maan (Member of Parliament) for his comeback in Movie Police in Polly wood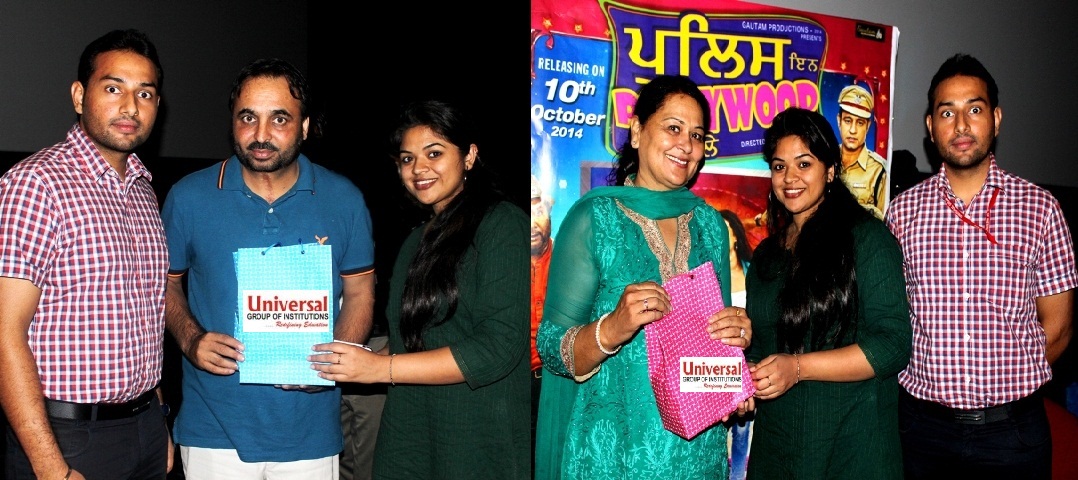 22-09-2014
Universal Group Of Institutions greeted Member Parliament Bhagwant Mann on his come back with the upcoming movie Police in Pollywood. As after getting great success in Elections, Member Parliament AAP Party Candidate Mr Bhagwant Mann doing his comeback in pollywood with the movie. Universal Group PRO Nivida Sharma and Mechinal Department Asst Proff Shubhdeep also did Meet & Greet with the other Starcast of Punjabi in Chandigarh. Police in Pollywood is an upcoming situational Comedy Punjabi Film which is directed by a great Actor Sunita Dhir.
On the behalf on Universal Group UGI Group members greeted Bhagwant Mann and Sunita Dhir with whole starcast for the success of their upcoming movie.
Member Parliament and actor Bhagwant Mann while interacting with faculty membersshared that the Movie is directed by Actor Sunita Dhir who has worked in all the Successful movies in Pollywood. He further shared that now that this movie is a situational Comedy, in which he is acting as a Policeman. While in the conversation Actor turned Director Sunita Dhir also threw some light on the story and theme of the movie which is full of entertainment as well as also having the flavor of Comedy.
Dr Gurpreet Singh, Chairman Universal Group speaking on the occasion said that promotion of Punjabi art and culture is an integral part of the programme of Universal Group of Institutions. These kinds of activities also provide an exposure and motivation to the students.
On this gesture of Universal Group of Institutions Member Parliament and Actor Bhagwant Mann and Actor Sunita Dhir extended their thanks to UGI for the greetings. The whole star cast wished to all the students and UGI family through message.