UGI celebrated World No Tobacco Day.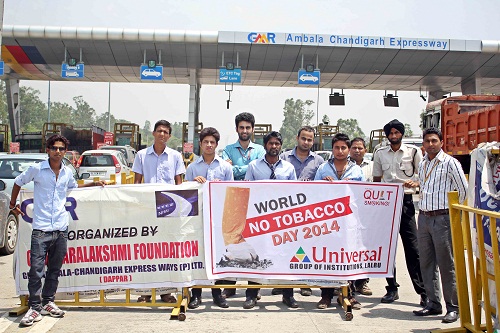 31-05-2014
No one said that quitting smoking and Tobacco was easy, but on World No Tobacco Day today, Universal Group of Institutions seems earnest in its fight against tobacco consumption in order to justify its social responsibility of being an Educational institute.
Today Universal group hosted an outdoor activity ie Pamphlets distribution among common man - especially truck drivers and Labors to create awareness.
Under the same Faculty and students distributed more than 1500 pamphlets highlighting the side effects and diseases on the consumption of tobacco and liquor.
The objective of World No Tobacco Day is to reduce tobacco consumption which can lead to deadly diseases like cancer and early death.
Chairman Universal Group Dr Gurpreet Singh said "No-Tobacco Day is the attempt to draw public and government attention on the need to take effective measures to prevent tobacco consumption which contaminates the air in which we live. So, if your dream is to live in a pollution-free environment, then Anti- Tobacco Day is the right time to express your support to help create a safe and healthy environment for future generations."