Department of Mechanical Engineering
Mechanical engineering is an engineering discipline that combines engineering physics and mathematics principles with materials science to design, analyse, manufacture, and maintain mechanical systems. It is one of the oldest and broadest of the engineering disciplines. Mechanical Engineering at UIET is the best 'Mechanical Engineering' in punjab and chandigarh. The mechanical engineering field requires an understanding of core areas including mechanics, dynamics, thermodynamics, materials science, structural analysis, and electricity. In addition to these core principles, mechanical engineers use tools such as computer-aided design (CAD), computer-aided manufacturing (CAM), and product lifecycle management to design and analyse manufacturing plants, industrial equipment and machinery, heating and cooling systems, transport systems, aircraft, watercraft, robotics, medical devices, weapons, and others. It is the branch of engineering that involves the design, production, and operation of machinery. The faculty members are well qualified, having vast experience in teaching and sufficient practical knowledge to elaborate their assignments of teaching and research.Projectors in the classrooms, charts in the workshop, working models in the laboratories are frequently used to make the subject comprehensive to the students. The Mechanical Engineering department engages students for theory in well maintained classrooms, for tutorials and academic guidance in the tutorial rooms and for subject practical in the respective laboratories.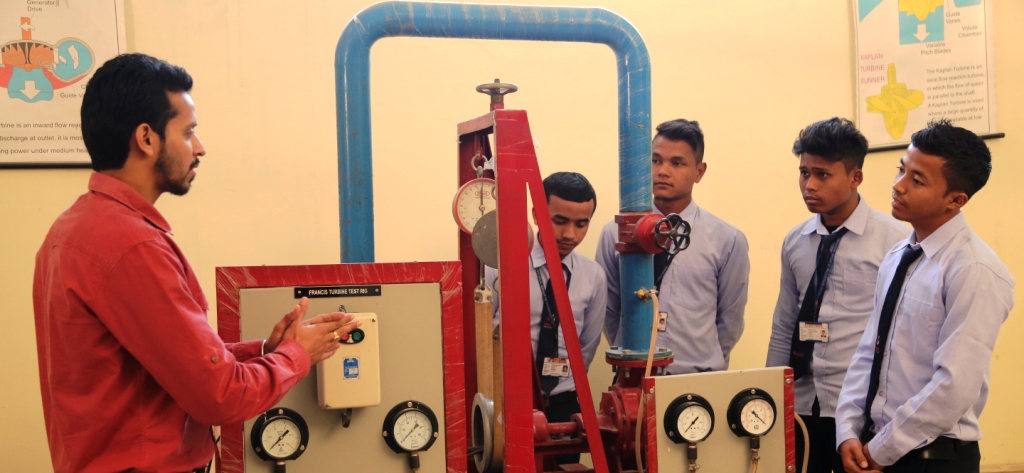 Laboratories
Strength of Materials laboratory
Theory of Machines laboratory
Fluid Mechanics laboratory
Heat Transfer laboratory
Mechanical Measurement & Metrology laboratory
Automobile Laboratory
Applied Thermodynamics laboratory
Refrigeration and Air Conditioning laboratory
CAD/CAM laboratory
Workshops
Carpentry Shop
Machine Shop
Fitting Shop
Sheet Metal Shop
Welding Shop
Foundry Shop
Electrical Shop
Eligibility
Candidates should have passed the +2 examination with Physics and Mathematics as the compulsory subjects along with one of the following subjects: Chemistry / Biology / Biotechnology / Computer Science.
Career Opportunities
After the completion of Bachelor's in Mechanical Engineering, lots of opportunities are there in different fields of manufacturing, production, services and development. This is the age of machines and where, there is machines, there is opportunity for mechanical engineers.
Automobile Engineer
Building system Engineer
Chief Mechanical Engineer
Cryogenics Engineer
Design Engineer
Thermal Power Engineer
Tool Engineer