Department of Electronics and Communication Engineering
Electronics and Communication Engineering is a specialized stream of engineering that deals with all the electronic equipments, wireless and non wireless and their effective use and proper application. It involves designing and development of electronics equipments along with their testing and research .Basically it includes the things like manufacturing of electronic equipments, circuits and communication devices. The core concepts covered under this specialization are basic electronics, microprocessors, microwave engineering ,antenna and wave progression, satellite communications, digital and analogue communications and solid state devices. The Universal Institute of Engineering and Technology which is a prime wing of Universal Group of Institutions is the best institute for electronics and communication engineering in entire Punjab and Chandigarh region . UIET provides a Bachelors degree course in electronics and communication engineering. There is a continuous effort on the part of UIET to ensure quality education for the students. For this it ensures that the best of faculty and infrastructure is provided to the students so that they emerge as top most engineering professionals in this specialized disciplines . The UIET arranges for regular seminars for students and teachers so that they are updated of all the developments in this field and have a clear insight into the industry. Faculty development programmes are arranged regularly along with the visit of experts to interact with students and faculty in this arena. There is a great infrastructure comprising of labs and classrooms which is upgraded regularly to keep up pace with the latest developments in the field of electronics and communications engineering.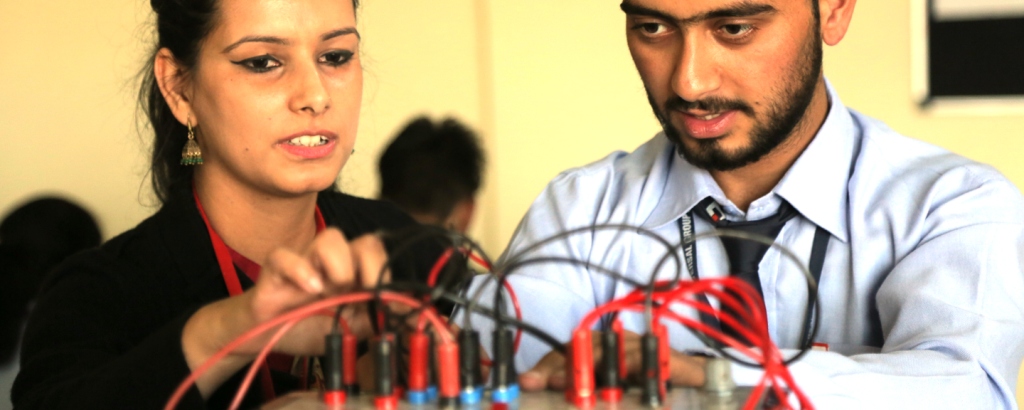 Laboratories
Electronics Devices and Circuits laboratory
Electronic Measurement & Instrumentation laboratory
Analog Electronics laboratory
Digital Electronics laboratory
Control System laboratory
Linear Integrated Circuits
Digital Signal Processing laboratory
Microwave Engineering
Micro Controller
Microprocessor laboratory
Eligibility
Minimum eligibility for admission into Electronics and Communication engineering is that the candidates should have passed the +2 examination with Physics and Mathematics as the compulsory subjects along with one of the following subjects: Chemistry / Biology / Biotechnology / Computer Science.
Career Opportunities
After B.Tech in Electronics & Communication, plenty of options in aviation and avionics, consumer electronics, manufacturing, communication & telecommunication, computer application, radio & television, diagnostic and equipment manufacturing are available to the students or they can pursue a higher degree and can go for teaching or research field in central government job, state government job and in public & private sectors.
Electronics Engineer
Field Test Engineer
Network Engineer
Electronics and Communications Consultant
Customer Support Engineer
Electronics Technician
Research and Development Software Engineer
Service Engineer
Senior Sales Manager
Technical Director
Network Planning Engineer
Welcome to the Universal institute of pharmacy the best college for B Pharmacy and D pharmacy course. At universal institutive of pharmacy we provide best pharmacy education under the guidance of our expert faculty. The stress is on hands on practical education that is backed up strong research and analysis. We have educational tie ups with the various companies from pharmaceuticals to health care. Visit at the campus a regular thing in search of young polished talent . For more information visit www.ugi.ac.in .
Welcome to the Universal Institute of engineering and technology. The best place to learn engineering. It provided bachelors degree in various streams of engineering. Students evolve as the top most engineering professional thanks to the overall conductive atmosphere for their growth and development as engineering professionals. We have educational tie ups with the various teach giants that facilitate in immediate placement of the students. Visit at the campus a regular thing in search of young polished talent .For more information visit www.ugi.ac.in .
Universal Group of Institutions observes International Justice Day
Universal Group of Institutions is celebrating International Justice Day on 17 July 2021. It is celebrated as an effort to recognize the emerging system of international criminal justice. Injustice anywhere is threat to justice everywhere. Keeping this in mind we should resolve to abide by law and uphold justice at every cost.