UGI organised a PTU Sponsored National Seminar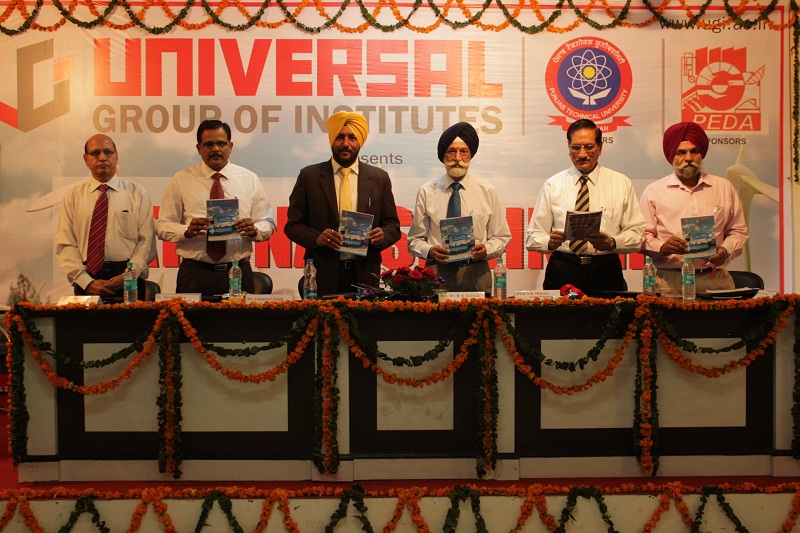 29-10-2014
Universal Group of Institutions, Lalru in association with Punjab Technical University, Jalandhar and Punjab Energy Development Agency, Chandigarh organized a National Seminar on 29th October, 2014 where a vast range of issues pertaining to the field of Renewable Energy Sources was discussed. Dr. Gurpreet Singh, Chairman, UGI, Dr. Rachit Garg, Director, UIET, Dr. Ramesh Dogra, Principal of UCACS was present there.
The inaugural session started with the welcome address by Dr. Ramesh Dogra, Principal of Universal College of Arts, Science and Commerce. He addressed the audience that energy is the essential for the development of any country. The resources from fossil fuel are unsustainable and responsible for global warming. Dr Gurpreet Singh, Chairman of UGI released the souvenir.
Dr (Brig) R.S.Grewal, Ex-VC, Chitkara was the chief guest discussed the use of use renewable energy sources to fulfill the energy needs of the country. Guest of honor, Prof. S.K. Sharma, Emeritus, Panjab University, Chandigarh, in his keynote address said that Life of commercial energy sources like oil, coal and gas is 20,:90 and 40 years respectively at the present rate of consumption, which is less than 10 times than the developed countries. Nearly 400 million people in India do not have access to electricity. 80% population in rural areas uses biomass to meet their cooking needs. Mrs. Alka Kansra, Dr. Sandeep Ahuja and Dr. Navdeep Shekher also graced the occasion as resource person.
Two technical sessions were conducted. In first technical session, More than 50 participants of different colleges and universities participated in the National Seminar and they also shared their views on renewable energy sources. In second technical session, more than 30 participants participated in poster presentation.
The National Seminar was concluded by Dr. L.K.Attri offering a vote of thanks to the Chief Guest, all the delegates and students for their kind cooperation in rendering the National Seminar a great success which was a small effort in the form of a plint for the budding educationists, practitioners and teachers to discuss how renewable energy sources can be useful for world and how we can achieve it. He also thanked Punjab Technical University, Jalandhar and Punjab Energy Development Agency, Chandigarh for sponsoring the National Seminar.