UGI Organised a Workshop on Leadership and Entrepreneurship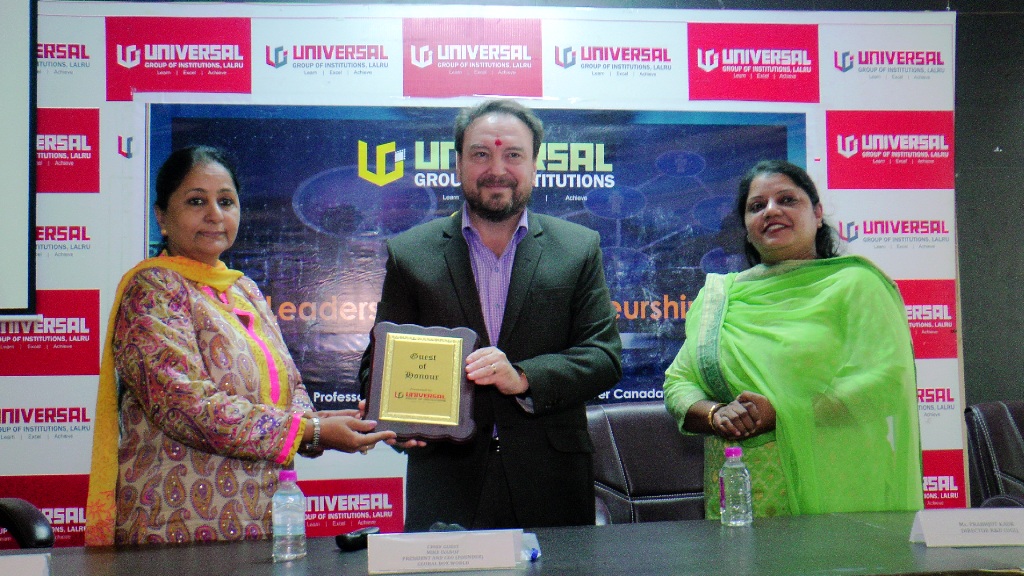 31-10-2018
Universal Group of Institutions, Lalru organised one day workshop on the topic "Leadership and Entrepreneurship" in its campus. The chief guest of the day cum speaker was Professor (Dr.) Mike Ivanof from University of Fraser Valley at Vancouver Canada. Hon'ble Chairman (Dr.) Gurpreet Singh did his formal welcome by sharing the overview of the campus academic as well as training and placement polices. Professor Ivanof appreciated and praised the way of Universal Group of Institutions imparting the education among all the students in various streams. Professor, (Dr.) Mike Ivanof began his lecture by saying "Your Attitude defines Your Altitude."
He very lucidly defined the concept of Leadership and Entrepreneurship. He highlighted Indian global leaders specially Mr. Satya Nadela, CEO Microsoft and Mr. Sunder Picahi, CEO Google, who have been presenting India at global market. He further delineated the entire concept of Leadership and Entrepreneurship. In addition, Dr. Mike Ivanof defined the meaning, success features, management skills, the process of successful leadership, leadership styles, global mindset and requirements about the leadership etc. He quoted Socrates' words "the more I learn, less I know!" and said that it is the reality of our cognitive minds even today. He tactfully stated that managers do right things where as leaders do thing right by summing up his lecture. At the end of his lecture, a very interesting and interactive questionnaire session was held in which cross question were put by the managements as well as from the faculty members and student to speaker of the day. Professor Ivanof felt surprised while interacting with all the participants who put questions to him. He thanked to entire UGI for giving him such a pleasant platform to interact with youth of the India.
Apart from this, all the HOI's Principals, faulty and final year students from various esteemed institutions of UGI were present during this workshop. Finally, the workshop reached at the final stage and worthy Director Academics, (Dr.) Virender Kaur gave a vote of thank. A token of remembrance on behalf of UGI was presented to Professor Mike Ivanof by Hon'ble Chairman, Director Academics and Director Training and Placement.