UGI organised a Workshop On Field Visit to Pre Incubation Units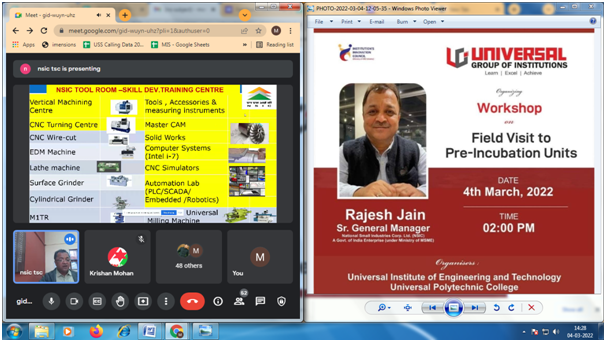 13-03-2022
Mr. Rajesh Jain, Sr. General Manager, NSIC, Rajpura was the Expert of the Workshop Field Visit to Pre-Incubation Units. During his inaugural address, he said, Regarding MSMEs which provide large employment opportunities at lower capital cost than large industries.
In his special address, Mr. Rajesh Jain, focussed on Skill development in Marketing, networking, Capacity building and Technology. He said, "MSMEs is engaged in imparting technical training to the unemployed youth from rural and urban areas for their employment and Self employment.
He also addressed that Our NSIC Technical Service Centre has been imparting advance industrial training to young engineers by enhancing their Technical Skill in the stream of Computer Science, Electrical, Mechanical, Electronics & Communication etc. He also told about Prime Minister Employment Generation Programme (PMEGP), COIR Vikas Yojana (CVY), International Cooperation Scheme (IC), Nation SC-ST Hub Scheme (NSSH), Credit guarantee Trust Fund for Micro & Small Enterprises (CGTMSE) and Credit Capital Subsidy scheme (CLCSS). He also showed NSIC Tool Room skill Development Training centre in which he provide e-Visit to the Incubation Unit like Surface Grinder, Cylinder grinder, CNC wire- Cut, Lathe Machine, computer Systems and Automatic Lab. He also informed regarding Electrical Testing Laboratory, which is BIS approved.
At the last, Vote of thanks was given by Ms Neetu Jain, Principal Universal Polytechnic College, Lalru. She said, I extend my gratitude to our honourable Chief Guest Mr. Rajesh Jain to take out time from his busy schedule to grace the event. Thank you for inspiring & encouraging us with your words on this special day. I must thank the organising team, volunteers for working hard for the past few days to make this webinar successful. I congratulate all the participants for their active participation. Thank you, everyone, once again for making it a great success.