Google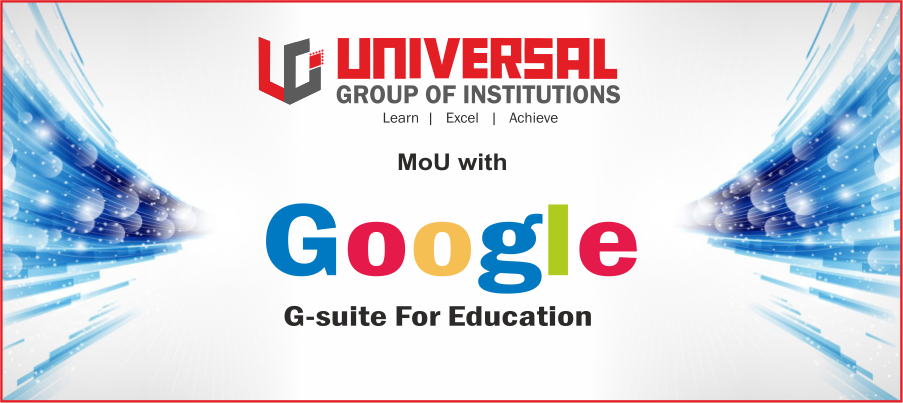 UGI become the partner with Google for Education Programme to provide service and innovate by leveraging Google products and platform across the Google for Education suite. Now UGI is a fundamental part of the Google for Education mission – to help teachers inspire curiosity and for students to discover and learn together. UGI started Google Classroom "Less paperwork more Teaching" with the mission to control for class. Google Classroom is one of the fine tools, with the help of this we create classes, distribute assignments, send feedback, and see everything in one place. In the outcome of this product, a teacher and students get instant and effective results with easy and paperless teaching.
Microsoft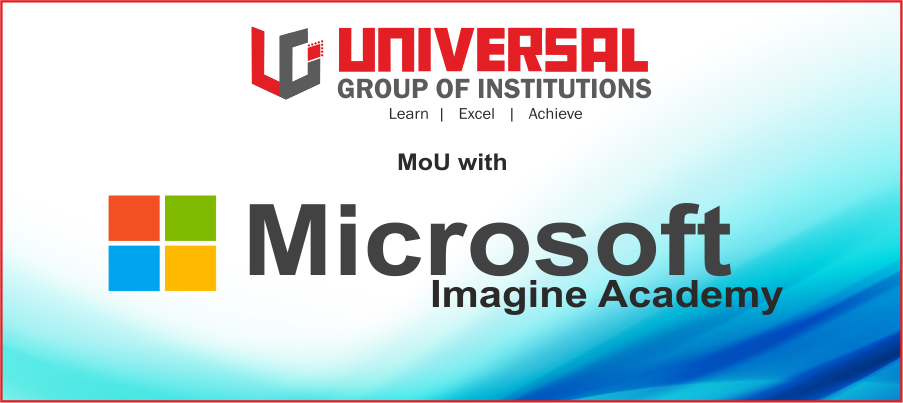 Microsoft has signed a MoU with Universal Group of Institutions (UGI) for Microsoft Imagine Academy program. The Microsoft Imagine Academy Program is designed for accredited academic institutions worldwide. The Program prepare students for the global economy, and create skilled community. It provides educators the tools they need to effectively train students on Microsoft technologies.
Autodesk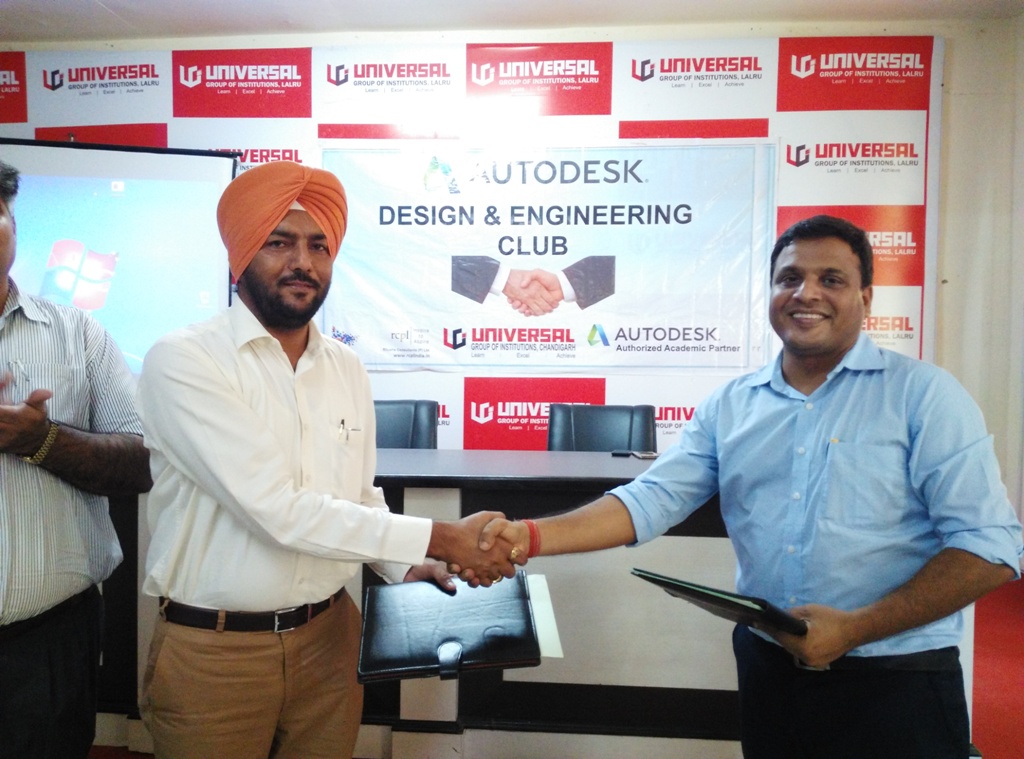 UNIVERSAL GROUP established Authorised Autodesk Design and Engineering Club in 2015. Autodesk, Inc. is an American multinational software corporation that focuses on 3D design software for use in the architecture, engineering, construction, manufacturing, media and entertainment industries. Autodesk became best known for AutoCAD but now develops a broad range of software for design and engineering. The first batch, taught by Autodesk certified faculty completed its training and qualified their Autodesk certification in October 2015.
Godrej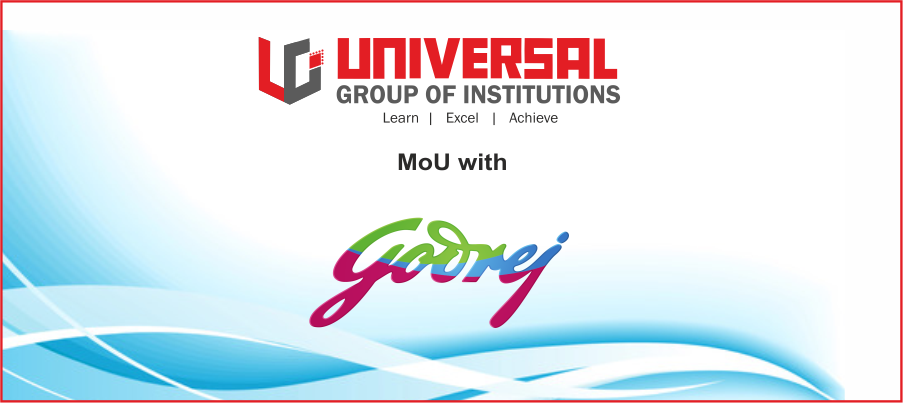 Universal Group of Institutions (UGI) has tied up with Godrej to open a workshop for Diploma and B.tech (Mechanical and Electrical engineering) students. The workshop makes students professionally trained in the field of refrigeration and air conditioning. The students of other colleges can also impart the training.
IIPC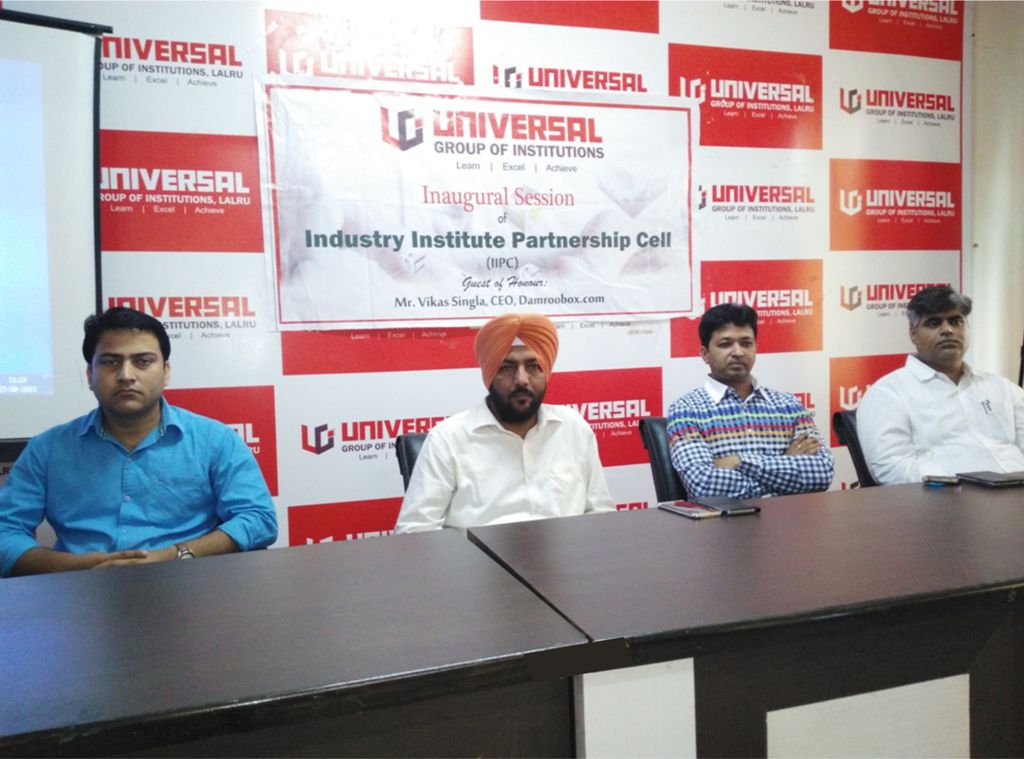 IIPC was established with the objective to IIPC reduce the gap between industry expectations (practice) and academic offerings (theory) by direct involvement of industry. We believe that quality human resource is the biggest asset of any industry and is the major source of development of any economy. Thus we endeavour to train our nation builders i.e. youth in the way the industry demands so that they are readily equipped by the industry. In this domain the strength of the institute lies in its qualified and experienced faculty, well equipped workshops and state of art infrastructure. The IIPC cell identifies the industrial needs by undertaking various studies on gap analysis. The students are then prepared according to the demand. Faculty of the group also keeps on interacting with industrial and equip themselves with latest practice and also helps the industry in solving their problems. Management of Universal Group also sponsors IIPC cell to the tune of 4-5 lakhs per annum. Following are the key activities performed by the IIPC *Industry-Institute Collaborations *Undertake gay analysis studies *Facilitates hands-on-practical training of students on the industry shop floors, units, fields etc. *Organising industry experts interaction sessions at campus and at industrial premises for the students and faculty. *Organising industrial visits in order to give exposure to students. *Organising brain storming sessions, seminars, symposiums, exhibitions and workshops. *Implementing joint research and development projects and consultancy projects.
EDC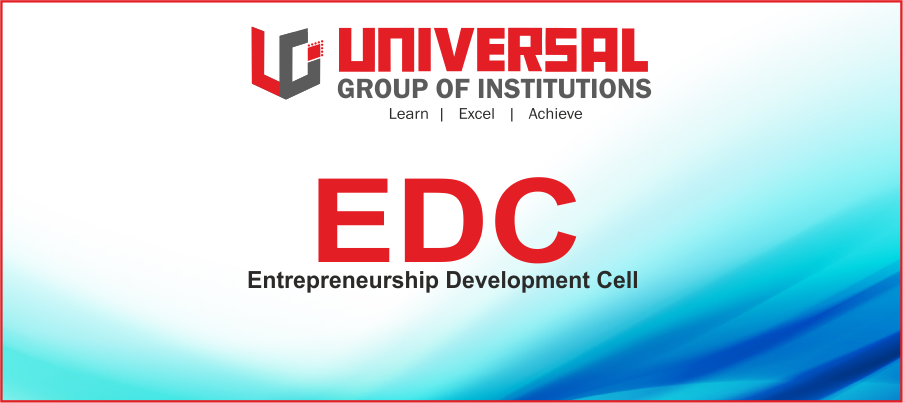 The Entrepreneurship Development Cell (EDC) is being promoted to develop institutional mechanism to create entrepreneural culture and to foster techno-entrepreneurship for generation of wealth and employment. UGI organizes Entrepreneurship Awareness Camps, Entrepreneurship Development Programmes and Skill Development Programmes in the college for the benefit of students. Entrepreneurship generates a large number of employment and income options with initially small capital investments and little sophisticated and managerial & technical skills.
Tally Academy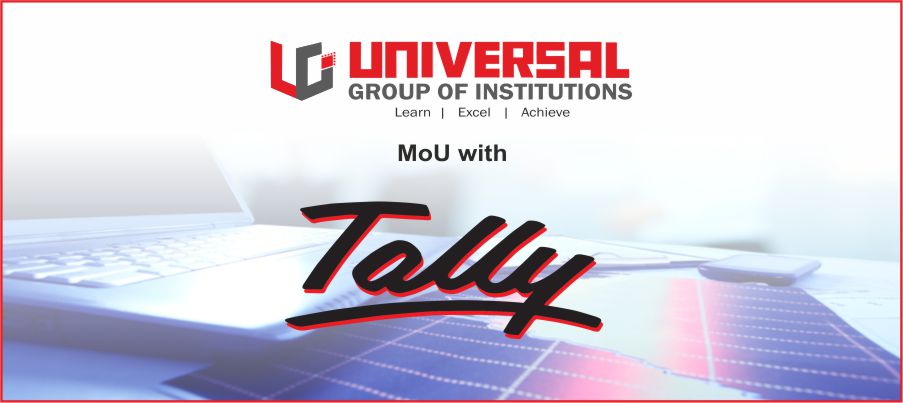 Universal Group of Institutions (UGI) has tied up with Tally Solutions Private Limited to help educators professionally trained in Tally. ERP9 Multiuser Software. Tally education programs are designed to facilitate learning in a seamless manner and provide course completion Certificate.
UGI Signed MoU with Medyhealth Technologies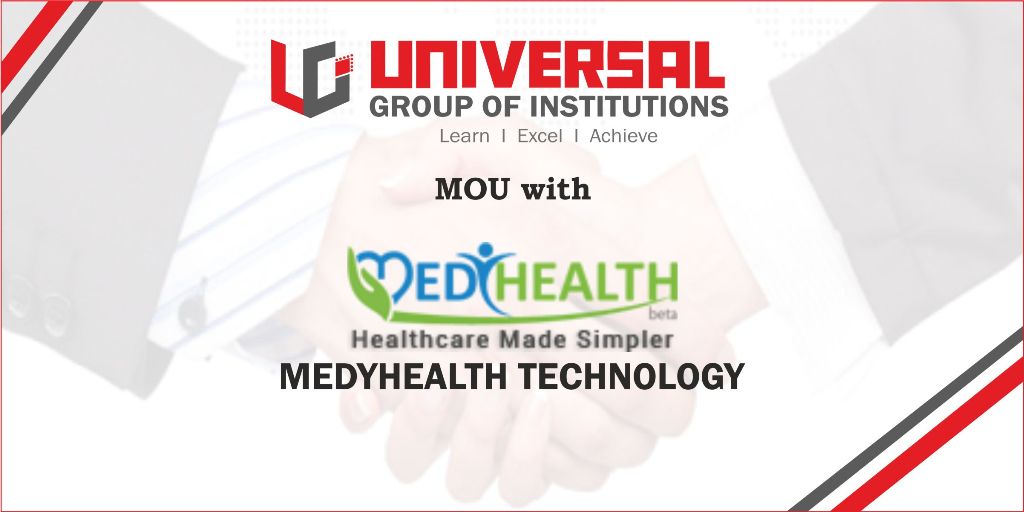 Universal Group of Institutions signed MoU with MEDY Health Technologies on 16 th January 2018 on the presence of the Company Members and the entire Team of Universal Institute of Nursing. The MoU was signed with the worthy signatures of the Principal- Universal Institute of Nursing and the Operations Manager- Medy Health Technologies. Ms. Manpreet Kaur, Operations Manager- Medy Health Technologies said that the nursing profession calls for tremendous patience, responsibility and dedication. The job requires alertness of mind, team spirit, tact, compassion etc. One should also be physically fit; in peak health for the job involves a lot of hard work. They should have the instinct to help and serve the patient without getting sentimentally attached. Apart from all these, one must have a pleasant smiling face whatever be the situation.